Set up your own jitsi video conferencing platform for one hundred concurrent users and unlimited hosts. This setup has been tested to run as expected using the best in class open source WebRTC video conferencing platform, Jitsi Meet.
Easily deploy using a setup wizard from AWS marketplace.
Wizard driven setup
Fully fledged tutorials
Customer support via email and calls
Front end customization guide
Save 90% of the time and cost of deploying a similar platform true standard manual deployments
Customize and brand your Jitsi system according to your corporate and individual business requirements. Includes the latest version of Jitsi supported by a robust infrastructure of Amazon Web services including ec2.
Selected deployments contain recording features to Amazon S3 load balancing and auto scaling infrastructure. Fully tested to work with the latest and greatest web browsers including Firefox, Google Chrome, Microsoft Edge and Apple Safari web browsers
Responsive mobile supported video conferencing or native mobile app based video conferencing. Talk to us and deploy your own native jitsi Android and IOS mobile applications if you need native mobile support. Or Jitsi meet works well responsively over most popular web browsers.
Includes firewall fallback set up to work with most of the popular web browsers and proxies which block UDP traffic. This setups works flawlessly across most enterprise networks, giving you peace of mind and reliable web conferencing.
Talk to us about further customizations such as integrating language translations, transcription services and direct dial-in and dial-out features over SIP protocol. We can also integrate customized authentication mechanisms from ERP systems CRM and other management information systems through JWT tokens, single sign-on, LDAP or Active directory protocols.
This platform is brought to you by meetrix.io the pioneers and industry leaders in web video conferencing and real-time Communications
Use cases for Video conferencing systems powered by Jitsi in 2022
Perfect for online education platforms for tutors
Great way to host classes for schools and universities
Secure and private video conferencing for hospitals or doctor - patient calls
Direct dial in/ dial out for maintenance and support based conferencing needs
Enterprise communications to host webinars and events
Events can be hosted and streams efficiently and with attendees managed
Jitsi Meet Component Architecture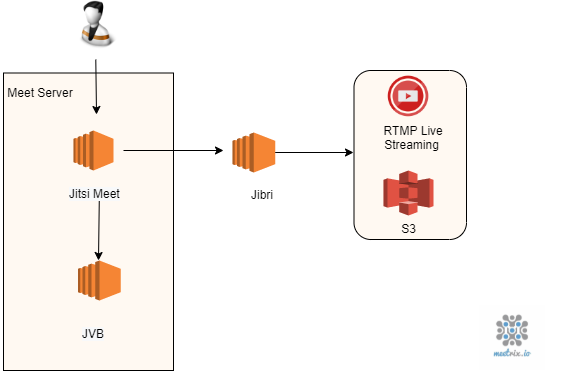 Overview
Non-auto scaling infrastructure
Terraform script for AWS
Unlimited conferences.
Unlimited hosts.
Upto 100 (~200 on audio only) concurrent users.
Record upto 20 concurrent meetings
Supports Jitsi Web, Android, and iOS apps.
Low monthly infrastructure cost with auto scaling
Integrate video conferencing with your own Website, CMS, ERP, CRM, Rocket Chat for unlimited flexibility.
Cloud watch monitoring dashboards
Warranty and Support: Yes (See terms and conditions)
Video Conference Features
Moderator/ Participant roles
Video on/off
Mute/ unmute
Moderator [participant mute, mute all, video off all]
Polls and Chat
JWT token authentication/ PW authentication & Lobby Feature
Stream to any RTMP endpoint (YouTube, Video, MUX, Facebook etc.)
Server costs
fixed infrastructure costs
2 core, 2GB ram machines x 1
4 core, 8GB ram machines x 1
AWS cost based on on-demand pricing: USD 124.416 [t3a.small x 1, c5a.xlarge x 1] Cloud providers may have updated pricing
The above cost may vary depending on the region and cloud providers may have updated pricing. Your final bill may vary on customizations and exact specifications. This cost can be reduced significantly with AWS reserved instances and savings plans.
Why do you need auto-scaling servers for video conferencing?
save cost when there is no use for additional servers
scale up and down servers to cater to video conferencing user demands
What is the role of the Jitsi Meet, JVB & Jibri servers?
Provides the front end for the video conferencing system
Manages the video & audio conferencing data transfer between conference participants.
Jibri servers allow recording of Jitsi meetings (this is not offered on all scripts)
Why do we set up Jitsi servers as shards
Shards are logical structures of servers that are deployed within a particular ISP infrastructure service providers region and availability zone
They contain as necessary, HA Proxy, Jitsi Meet, JVB, (optionally) Jibri servers.
Within each shard, there may be auto-scaling JVB and (optionally) Jibri servers to support a given number of concurrent users
The scripts may setup multiple shards as necessary to cater to a given number of maximum concurrent users
What's included in this purchase
Terraform script
Readme with instructions on setting up and configuring the code on AWS
Jitsi Components which will be installed
jitsi-meet 2.0.6433-1
Jicofo - 1.0-813-1
jitsi-videobridge2 - 2.1-570-gb802be83-1
Jitsi-meet-prosody - 1.0.5415-1
Jitsi-meet-web - 1.0.5415-1
Jitsi-meet-web-config - 1.0.5415-1
Operating system requirement
AWS permissions required
EC2 Full Access to create EC2, Security, EBS, EIP, Key Pairs
Auto Scaling Group & Launch Config for EC2
AWS S3 (if Jibri will be deployed for recording)
SNS & SQS
SQS Full Access
CloudWatch Full Access
Externally Allow TCP 443,80
Externally Allow UDP 10000 for JVB
Allow all traffic internally between the Jitsi -JVB
Allow all traffic internally between the Jibri to JVB & Vice-Versa
Allow all traffic internally between the Jitsi - Jibri & Vice Versa
Pre-requisites (technology knowledge and access needed to run the scripts)
Knowledge of AWS account administration and services
Knowledge on Terraform
Additional live support for setting up scripts
Can be provided on demand (within 24hrs from request)
Hourly rates applied for consultation (contact sales)
How to run the scripts
Purchase the scripts
Scripts are emailed to your given email address
Read the README.md and execute them on your AWS infrastructure
Terms and Conditions Apply
Email and chat support are available free of charge for 14 days from the date of purchase
Scripts cannot be resold or shared
Jitsi is open-source software under Apache License 2.0 license
Buy Now - Jitsi Meet 100 concurrent user video conferencing setup with recording